EUcare4.0 - Health 4.0 training to boost digital transformation of EU is funded by the European Union through the Erasmus+ Programme, Action Type KA220-VET - Cooperation partnerships in vocational education and training, Call 2021, Round1.
PARTNERS
The project is being carried out by ECAM-EPMI – School of Electrical Engineering and Industrial Process Management (France) – Project Coordinator in partnership with SESCAM – GERENCIA DE ATENCIÓN INTEGRADA DE GUADALAJARA (Spain), UNIVERSIDAD CARLOS III DE MADRID (Spain), SC Ludor Engineering SRL (Romania), EFCC Estonian Fieldbus Competency Centre OÜ (Estonia) and OAMGMAMR Iasi – The Order of Nurses, Midwives and Medical Assistants (Romania), for a period of 24 months (01-11-2021 – 01-11-2023).
OBJECTIVE
The main objective of EUcare4.0 project is to support the digital transformation of EU healthcare by contributing to the development of the digital skills, competences and knowledge needed for efficiently applying and using the Health 4.0 principles and underlying technologies in the mental health sector. The project will also help develop useful competencies in cases of catastrophes and pandemics. Indeed, in the current sanitary situation due to the coronavirus crisis, we can even more see the need in competencies and rapid adaptation of health services in various kinds of situations.
OUTPUTS
In order to reach out the project objective and to cater for the needs identified from the context analysis, EUcare4.0 partnership will produce an innovative VET curricula and the related course content, training guidelines, evaluation tools and certification as well as an e-Learning space that provides free and open access to training materials and relevant case-studies about Health 4.0 technologies.
The total budget of the project is 268 991 euros.
Designing of the structure and content of the publication "Introducing Health 4.0 to mental health specialists"
Designing of EUcare4.0 curricula and training modules
Designing of EUcare4.0 e-learning space, including case studies about Health 4.0, trainer guidelines, evaluation tools and certification
Development of innovative EUcare4.0 modular training components
Development of EUcare4.0 e-learning space - testing of EUcare4.0 e-learning space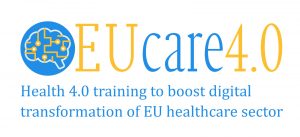 Target groups
The primary target groups of the EUcare4.0 project are VET trainers that deliver various trainings to mental health specialists. They will benefit directly from project results and activities and will be able to gain or improve their knowledge and skills related to Health4.0.
The secondary target group are mental health specialists such as psychiatrists, psychiatric nurse practitioners, psychologists, social workers, and counsellors. The project meets the needs of target groups by providing them the necessary training materials and tools.
It also meets the needs of the partner organisations, which are interested in providing up-to-date services, training and consultancy related to mental health sector.
Transforming healthcare
Find out the latest news…
Welcome to the third newsletter of the Erasmus+ project
Welcome to the second newsletter of the Erasmus+ project Newsletter no.2 – Eng Newsletter no.2 RO Newsletter no.2 Est Newsletter no.2-ES
Details
EUcare 4.0 leaflet in English EUcare 4.0 leaflet in Romanian EUcare 4.0 leaflet in Estonian EUcare 4.0 leaflet in Spanish EUcare 4.0 leaflet in French
Details